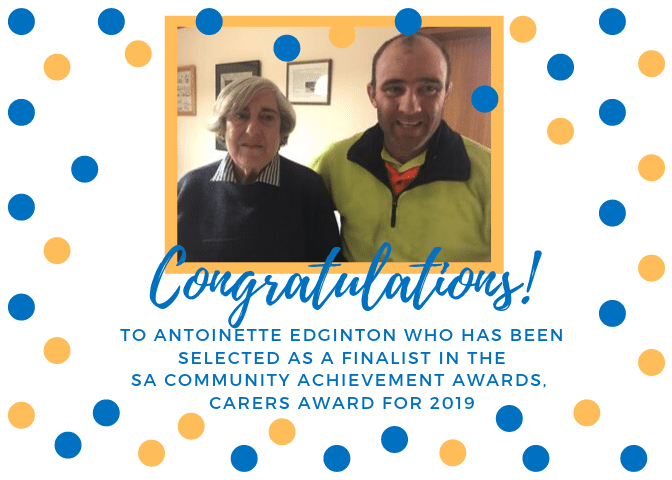 The Finalists have been announced in the 2019 South Australian Community Achievement Awards and Holiday Explorers are thrilled that Antoinette Edginton has been selected as a finalist for the Carers Award. Antoinette & her son Nathanael have been associated with Holiday Explorers for 22 years and during that time we have learnt of the energy she has devoted to the wider community in supporting carers and people with intellectual disability. Holiday Explorers is very fortunate to have such a supportive group of carers. This is the second time we have nominated one of our Carers and they both were selected as finalists. Christine Hill was the first in 2017.
Whilst a judging panel will decide the category winners, the Community Choice Award gives the power to the people to vote for their favourite Finalist.
The Community Choice Award helps to spread awareness of the Finalist's achievements and things they are passionate about – Holiday Explorers being one of those for Antoinette . . . plus there is a great prize to be won.
You can vote for one person, once a day.
The poll closes at midnight on Monday 28th October 2019.
The Finalist who receives the most votes becomes the winner of the Community Choice Award! So be sure to share the Facebook poll with your friends and family to help us spread the word!
The winner of the Carers Award will be announced on Friday 1st November – we will keep you informed!
Best of luck Antoinette!